THE BRIEF
Urban oasis, The Getaway wanted to kick-start Spring Break in style.
Voli 305 Vodka presented the event with DJ Laz returning to the popular tiki bar and marina destination on Tampa Bay.
Owners wanted to give locals and visitors an extra special day and night at the Spring Break Rewind Sunday Party and promote destination and encourage people to try the waterfront destination and #comebylandorbysea
THE WORK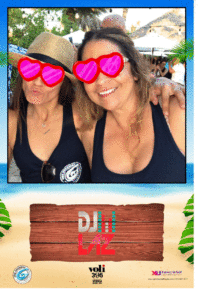 Xpress UrSelf Media wanted to inject even more of a party atmosphere into the event and give guests a chance to show off and celebrate their attendance at the must-attend Spring Break party.
Tapping into the Spring Break theme and celebrating the #comebylandorbysea strapline of The Getaway, Xpress UrSelf Media developed a fully branded, interactive XU Digibooth experience.
The XU Digibooth was the perfect addition to the event, tapping into the selfie trend and giving social-media savvy guests a chance to pose and create picture-perfect images and boomerangs that could be shared straight to social media.
Organizers also wanted to drive awareness of the future events at The Getaway and create a targeted database for future marketing activities.
THE RESULTS
Over 400 guests got the chance to pose, play and pout for the XU Digibooth, creating GIFs, Boomerangs and selfies that they shared via text, email and to Instagram
All content shared had customized branded photo overlays that Xpress UrSelf developed to ensure increased brand awareness online and with attendees
Guest interaction was encouraged through the creation of a purpose-built microsite to display all content and drive guests to further engage with the venue
Event content reached 13,458 people
Guest engaged and shared over 180 media from the event
A comprehensive database of contacts was created through the XU Digibooth which encouraged users to input data and sign up to hear more from The Getaway
Do you want to increase your digital footprint at your next event? We have the perfect solution, contact our creative team today.